We race Alfa Romeo's so we know how to tune them
Monza Sport have been involved in the tuning of Alfa Romeo ECUs since their involvement in the Alfa Romeo Championship back in 1998-2003. Bryn Griffiths dominated the production 2 litre class in 2001 and was Class E Champion and runner-up in the overall championship. He took 10 Class E wins and set eight new lap records at the ten circuits visited. In 2002 he took 11 wins, 2 seconds and 1 third place out of 14 races entered in a season of complete reliability for his Monza prepared Alfa Romeo 156. Bryn notched up his 21st class win on his way to his second Class E title!
In 2003, he was the first man to win a race in a Diesel in the UK (and possibly the world) in a race against petrol vehicles at Castle Combe in Class F of the Alfa Romeo Championship. He was driving an Alfa Romeo 156 Sportwagon 2.4 JTD.
If you are looking for more performance from your road car, or tuning services for your Alfa race engine we're the team to talk to.
Alfa MiTo Carbonio exclusive to Monza Sport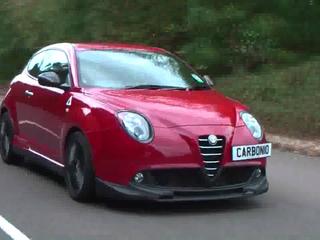 The Alfa Romeo MiTo 170BHP Cloverleaf benefits from the GT 1446 Turbo and by modifying the exhaust system and intake on our Alfa Romeo MiTo Carbonio we have achieved a stunning 215BHP and 339ft/lb torque.
On the Carbonio car we upgraded and tuned the following items;
ECU remap
Carbon airbox
K&N air filter
Silicon larger intake hose
Carbon light surrounds
Twin Ragazzon central exhaust
Carbon wing mirrors
Front splitter
Rear diffuser
This turns the Cloverleaf into an awesome proposition. Equally available for the Alfa Romeo Giulietta 1.4 TB.
Alfa Romeo MiTo Tuning - 1.4 TB 135 BHP MultiAir re-map
If you're looking for a team who know a thing or two about tuning Alfa Mito engines then the Monza Sport team are the best.
Our standard car gave a healthy 143BHP in Dynamic mode, but by paying great attention to the torque delivery and driveability on the road we were able to achieve a further 18BHP with no other modifications. These are actual proven gains not just claims calculated by percentages!
Call us or visit to find out more about what we can do to help you get more out of these great little hot hatches.
Alfa Romeo MiTo Cloverleaf, Quadrafoglio Verde and Alfa Romeo Giulietta 1.4 TB 170BHP MultiAir re-map
The Alfa Romeo MiTo 170BHP Cloverleaf benefits from the GT 1446 Turbo and by modifying the exhaust system and intake on our Alfa Romeo MiTo Carbonio we have achieved a stunning 216BHP.
On purely a re-map on the MiTo Cloverleaf, we managed 198 BHP – an amazing increase.
The same engine is used in Quadrafoglio Verde and the 170BHP Giulietta and so a similar map is available.
Alfa Romeo Giulietta and Alfa 159 1750 TBi re-map
The Alfa Romeo Giulietta Cloverleaf made 227BHP on the rolling road in standard trim. The response on the re-map gave gains of 20BHP but it is the way the power is delivered that is so impressive as can be seen by the modified curves on the print-out.
The time, effort and investment in keeping pace with the latest engine developments is considerable. The goal is the increased driving pleasure which is the end result. Monza Sport customers can benefit from as little as £375!
Alfa Romeo 159 2.4 JTD 235 BHP re-map
Later Alfa Romeo diesel models are all equipped with Diesel Particulate Filters (DPFs) which mean that they have to be very carefully modified to avoid the car going through the re-generation process of the DPF, detrimental to both performance and economy. Some other tuners have not managed to achieve as good a result as Monza Sports, as they have resorted to complete DPF removal which will cause problems later on as emission regulations for MOTs are tightenened.